Here at Geeks on Wheels we understand that there are so many apps out there it can be overwhelming! So we asked our team what they thought the best apps were in NZ in 2020. Their replies cover work, entertainment, health, social media and even apps you can use for travelling. If you have a favourite app we'd love to hear from you so we can add them to our list and spread the word!
Simply comment on our social media post here!

Best Apps NZ 2020: Work

CamScanner helps you scan, store, sync and collaborate. You can do this with various content across smartphones, iPads, tablets and computers.
Features:
Quickly Digitise Documents
Optimise Scan Quality
Extract Texts from Images
Share PDF/JPEG Files
AirPrint & Fax Documents
Advanced Document Editing
Quick Search
Secure Important Documents
Sync across Platforms
Available – IOS & Android Price – Free, Premium $ 4.99/month Recommended by Sam
Slack is a collaboration hub that can replace email to help you and your team work together seamlessly. It's designed to support the way people naturally work together. As a result you can collaborate with people online as efficiently as you do face-to-face.
Available – IOS & Android Price – Free, Standard $6.67 USD pp/month, Plus $12.50 USD pp/month Recommended by Phillip
The Brave Privacy Browser is your fast, free, and safe private web browser. It also has an ad blocker and pop-up blocker. Using Brave allows you to privately browse and search the internet without being tracked by advertisers, malware and pop-ups.
Available – IOS & Android Price – Free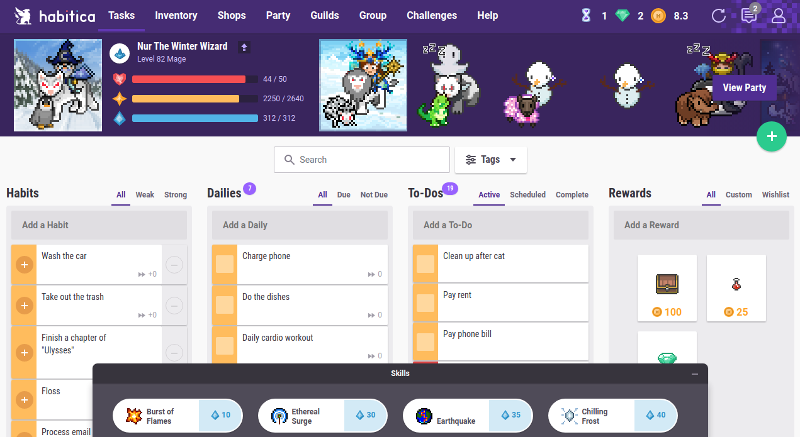 Habatica
Habitica is a free habit-building and productivity app that treats your real life like a game. With in-game rewards and punishments to motivate you and a strong social network to inspire you. Habitica can help you achieve your goals to become healthy, hard-working, and happy.
Track Your Habits and Goals – Stay accountable by tracking and managing your Habits, Daily goals, and To-Do list with Habitica's easy-to-use mobile apps and web interface.
Earn Rewards for Your Goals – Check off tasks to level up your Avatar and unlock in-game features such as battle armor, mysterious pets, magic skills, and even quests!
Battle Monsters with Friends – Fight monsters with other Habiticans! Use the Gold that you earn to buy in-game or custom rewards, like watching an episode of your favorite TV show.
Available – IOS & Android Price – Free (Offers In-App Purchases) Recommended by – Te Rangi

Best Apps NZ 2020: Social Media
TikTok is a Chinese-owned social video-sharing app. Users can shoot, edit, and share 15-second videos jazzed up with filters, music, animation, special effects, and more. Like its fellow social media apps, users can also follow, like, and comment on everything they see. TikTok can be used on iOS and Android operating systems. To put it plain and simple, TikTok is here to make social media fun again.
Available – IOS & Android Price – Free
Instagram is a free photo and video sharing app available on Apple iOS, Android and Windows Phone. People can upload photos or videos to our service and share them with their followers or with a select group of friends. They can also view, comment and like posts shared by their friends on Instagram. Anyone 13 and older can create an account by registering an email address and selecting a username.
Available – IOS & Android Price – Free
LinkedIn is a social network that focuses on professional networking and career development. It is owned by Microsoft and you can use LinkedIn to display your resume, search for jobs, and enhance your professional reputation by posting updates and interacting with other people.  LinkedIn is free, but a subscription version called LinkedIn Premium offers additional features like online classes and seminars, as well as insights into who's searching for and viewing your profile.
Available – IOS & Android Price – Free, Premium Career: $29.99/month. Premium Business: $59.99/month.

Best Apps NZ 2020: Entertainment
Google Play Music allows you to stream music from their massive library as well as music from your own collection anytime, from anywhere. It also supports Chromecast so you can cast music through your home theatre system with your phone still in your pocket.
On-demand streaming
Offline play
Music store
Upload your collection
Personalised recommendations
Available – IOS & Android Price – Free, $9.99 a month, $14.99 a month Recommended by Ant
Plex brings together all the media that matters to you. Your personal collection will look beautiful alongside stellar streaming content. Enjoy Live TV & DVR, a growing catalogue of great web shows, news, and podcasts. It's finally possible to enjoy all the media you love in a single app, on any device, no matter where you are.
Your Media– Share, reminisce, and give your moments the spotlight on any device you choose. With feature-rich options for organisation and without the need to upload to a cloud, Plex is the ideal solution for anyone with loads of high-quality photos in any format.
Music & Podcasts– Whether you call yourself an audiophile, music-lover, or your group's designated DJ, Plex makes it easy to access all of your tracks and podcasts and stream to any device.
Live TV & DVR– Experience your media with interactive virtual reality in Plex VR. Watch a movie in a virtual theatre like an urban oasis or sit at the drive-in while watching nostalgic shows of yesteryear. You can even watch together and host friends and family for a true movie-going experience.
Free Movies & TV– Whether you're joining for your favourite episode or you want to binge on your collection of movies, Plex beautifully organises all the videos you own AND makes it easy to find what you want to watch, on any device.
Available – IOS & Android Price – Free, Premium $4.99 a month, Recommended by Carl
Netflix is a streaming service that allows our members to watch a wide variety of award-winning TV shows, movies, documentaries, and more on thousands of internet-connected devices. With Netflix, you can enjoy unlimited ad-free viewing of our content.
Available – IOS & Android Price – Free, Basic, $8.99 usd per month, Standard, $12.99 usd per month
With Spotify, it's easy to find the right music or podcast for every moment – on your phone, your computer, your tablet and more.
There are millions of tracks and episodes on Spotify. You can listen to Spotify wherever you are for instance, you could be behind the wheel, working out, partying or relaxing. The right music or podcast is always at your fingertips. Choose what you want to listen to, or let Spotify surprise you.
Furthermore you can also browse through the collections of friends, artists, and celebrities, or create a radio station and just sit back.
Available – IOS & Android Price – Free, 1 account $14.99 / month, Family $22.50 / month, Student $7.49 / month Recommended by Lexi
TVNZ OnDemand is a New Zealand online television viewing and downloading service offered by Television New Zealand since 2007. It offers a variety of free content, such as news updates and programmes seen on TVNZ channels.
Available – IOS & Android Price – Free

Best Apps NZ 2020: Health
MyFitnessPal is one of the most popular web-based exercise and fitness social media applications available. MyFitnessPal (MFP) helps you keep track of your daily food and beverage intake, calculating all your nutrients, calories, and vitamins for you.
Available – IOS & Android Price – Free, $9.99 usd per month
Zero is a beautifully designed tracker used for intermittent, circadian rhythm, and custom extended fasting. As the largest app-based fasting community in the world, Zero makes it simple for you to harness the power of fasting to improve your health.
Available – IOS & Android Price – Free Recommended by Mat H
The Headspace app offers to paying customers sets of guided meditations. Importantly it's aim is tackling problems related to anxiety, sleeplessness, and relationships. As such, Headspace comes across as something like a self-help app. But the introductory sessions are more general and less focused on helping users solve particular problems.
Available – IOS & Android Price – Free (offers in app purchases) Recommended by Lexi

Best Apps NZ 2020: On the Road
Waze is a community-driven GPS and navigational app. As a result it guides you through the shortest route possible while driving. For instance it can help you find directions and avoid traffic jams on your way to a meeting. The Waze app is available for Android, iOS, Windows Phone and Windows Mobile platforms.
Available – IOS & Android Price – Free (offers in app purchases) Recommended by JP
Google Maps is a web mapping service developed by Google. It offers satellite imagery, aerial photography, street maps, 360° interactive panoramic views of streets, real-time traffic conditions, and route planning for travelling by foot, car, bicycle and air, or public transportation.
Available – IOS & Android Price – Free
Breadcrumbs app has been designed to drive you to discover more of the experiences you love! Whether travelling or at home, Breadcrumbs enables you to discover & share everything from cafe's to surf spots & nature hikes. Breadcrumbs is an open map for you to share your favorite experiences on. "Drop a Crumb" at a place that you love, whether that is a cafe, a hiking trail or a surf spot! Each Crumb includes a photo, description and tagged keywords – making everything easily searchable. Build your profile and as a result get rewards from the businesses you engage as you drop crumbs! Whether travelling or at home, Dropping Crumbs is the best way to share your favorite experiences!
Available – IOS Price – Free
Follow our social media for weekly #GeekHacks, #MeetTheGeeks and cute photo's of our dogs!